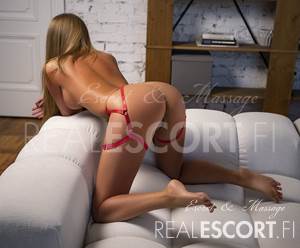 Ilmoituksen kuvat on validoitu 2 kuukautta sitten
🎀Linda♡🎀
Nyt sijainnissa Espoo (Esbo)
Info:
Hiusten väri
Todella vaalea
Silmien väri
Harmaa/sininen
Hinnat:
Arvostelut: Yleinen tyytyväisyys
Hyvä: 2 | Huono: 0
Kuvaus
Hi, i am Linda

Big Beautiful Apartment / Super Clean Towels / Listerine - for me the hygiene is important everywhere)))))).

Also if it's important for you, I AM FULLY VACCINATED.

So... I am in life i'm always smiling, positive, in a good mood. A very warm and friendly person, who loves to give and receive affection and pleasure. Despite i know what are my advantages, in the same time i'm a very simple person to connect with. Someone very GFE, sometimes a bit soft PSE attitude - depending of our connection).
Give me a chance and you will not regret it. That's right it's not possible to be perfect for everyone, but anyway i make my maximum for My guests never leave sad or disappointed, and as a result - i think 99% of them returned back several times.

PLEASE if possible send me message to introduce yourself : name, age, origin, time and duration of the meeting.
I don't discriminate against nationality, but I prefer you're honest with me for my security. As soon and If I can, I'll answer you. Thank you.

Please note - I Dont Send selfie, videos, voice messages, or more photos, with date, fingers, ass, etc etc etc! I am not responsible for your previous experiences, I am verified by the site, I have photo, video. And if after that, you still dont have trust, its simple - just dont text me.


I can't accept all the world and it's impossible to answer all the requests, i reserve myself the right to be VERY selective who i answer - depending of your presentation, and my intuition and feeling. If i don't answer immediately, maybe is my day off or im already busy, no need to be insistent that day, just contact me another time please. I give the priority to my regulars, so for better flexibility and probability, I recommend to contact me before, or at least some hours before. Thank you for understanding.

P.S. I am grateful to you for choosing me and contributing to my dream. As well, if you would like to text an Evaluation about your mood (without intimate details please!) after our meeting, it will be a big pleasure for me to have it like a memory.

Thank you for your time and attention ! See you soon!

Your Linda . :*

+358 466643401

Also good to know:
❌I don't provide sex without condom, don't OWO


🏡 Dear friends! Searching for apartments. I never go down with my rates so I don't have too much traffic and I meet only good boys, so I do not have problem with neighbors. I stay alone, no neighbors or other ladies. I pay rent and no options me to pay with my services. Thank you 😊
Yhteydenotto
Hyväksyy tekstiviestit: Kyllä
Hyväksyy WhatsApp-viestit: Ei
Vastaa salaisesta numerosta tulevaan puheluun: Ei
Sano: Löysin mainoksesi RealEscortista
Minä puhun:
English: Hyvä
Tavoitettavissa
Keskiviikko
00:00 - 00:00
---
Kerro, mistä olet löytänyt ilmoitukseni www.realescort.fi
Yleinen varoitus!
ÄLÄ KOSKAAN LÄHETÄ RAHAA ENNAKKOON, jos varaat seuralaispalvelun!
Nämä ilmoitukset ovat enimmäkseen ja todennäköisesti huijauksia. He yleensä vaativat vahvistukseksi uuden asiakkaan
lähettää tietyn määrän rahaa Paysafecardilla, kupongeilla, Google Play-kortilla, PayPalilla jne.
Tämä on yleinen varoitus, jonka annamme kaikille vierailijoille. Kyse ei ole kyseisestä ilmoituksesta, jossa vierailet.